Cheesecake Half Price Day Monday
The Cheesecake Factory has set their annual half-price Cheesecake Day for Monday, July 30, 2018.
You can get a slice of any of the 30+ cheesecake flavors for half price during the annual celebration.  The half-price deal is good at all 194 Cheesecake Factory restaurants.  The Cheesecake Factory announced the event on their official website.
The chain also announced two new cheesecake flavors will be unveiled on July 30: Very Cherry Ghirardelli® Chocolate Cheesecake and Cinnabon® Cinnamon Swirl Cheesecake.
 Very Cherry Ghirardelli Chocolate Cheesecake is a cherry cheesecake on a layer of fudge cake, loaded with cherries and
Ghirardellichocolate
.
The second new addition available starting July 30 is Cinnabon® Cinnamon Swirl Cheesecake, featuring layers of Cinnabon cinnamon cheesecake, vanilla crunch cake with cinnamon chips, and Cinnabon cream cheese frosting, topped with caramel.

*Offer valid July 30, for dine-in only. Only one slice per guest. Must be present. Offer valid in USA and Puerto Rico restaurants.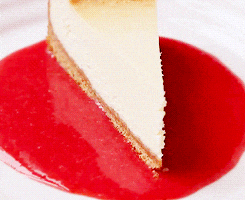 Powered By Giphy and theNeedle